Canadian Vaccine Injury Compensation Program
Active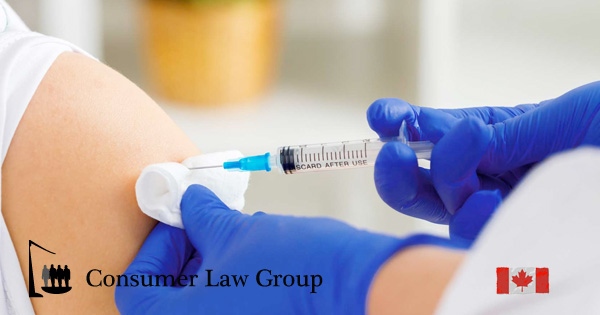 CONSUMER LAW GROUP is representing persons who received a Health Canada authorized vaccine after December 8, 2020 and subsequently suffered a serious and permanent injury or death.

The lawyers at CLG will represent you in your claim process and any appeals to maximize your ability of receiving fair financial compensation.

Please fill out the form below and a CLG representative will contact you and provide you with further information on the next steps.



Conditions for eligibility:
1. Health Canada authorized vaccine
2. Claim is filed within 3 years after the date of vaccination, date of death, or date when an injury first becomes apparent
3. The injury is reported to a health care provider
4. Date of vaccination was on or after December 8, 2020
5. Vaccine was administered in Canada
6. The injury is serious and permanent or has resulted in death
7. A likely causal relationship between the vaccine and the injury
Applicable vaccines:
COVID‑19
Diphtheria
Flu (influenza)
Hepatitis A
Hepatitis B
Human papillomavirus (HPV) infections
Measles
Meningococcal infections
Mpox (monkeypox)
Mumps
Pneumococcal infections
Poliomyelitis
Rabies
Rotavirus gastroenteritis
Rubella
Serious Haemophilus influenzae type b (Hib)
infections
Shingles
Tetanus
Varicella (Chickenpox)
Whooping cough
Type of injury:
Life-threatening or life-altering injury that may require in-person hospitalization, or a prolongation of existing hospitalization, and results in persistent or significant disability or incapacity, or where the outcome is a congenital malformation or death.
Type of compensation:
The amount of financial support an individual will receive will be determined on a case by case basis, which will include:
Income replacement
Bodily injury
Personal assistance expenses
Death benefits
Funeral expenses
Uncovered medical expenses
Rehabilitation
Determination of validity:
A panel of 3 physicians will determine if the vaccine was the probable cause of the injury and if the injury is severe and permanent. This will determine the eligibility and level of financial support.
Who can file a claim:
The victim can be the vaccinated person, the person having contracted the disease from a vaccinated person, or the fetus of either of such persons; or, if death occurs, the person who is entitled to a death benefit.