Evenko Ticket Delivery Fee Class Action
Active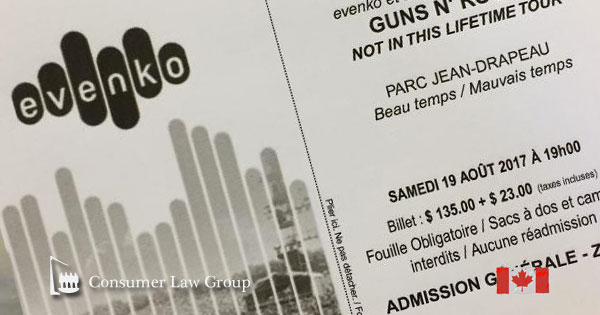 CONSUMER LAW GROUP has launched a class action lawsuit against the Arena des Canadiens Inc., who own and operate the ticket selling website evenko.com, on behalf of individuals who paid a delivery fee to receive their tickets (other than by mail).

The class action alleges that evenko charges consumers between $5.00-$7.00 (most commonly $5.75) as an "Electronic Ticket" fee, a "Will Call - Box Office pickup" fee, a "Mobile Ticket" fee, and a "Ticketless" fee – where all such services costs evenko nothing or, at best, a marginal cost (i.e. ink and paper).

It is claimed in the lawsuit that there is an extreme disproportion between what evenko charges consumers and what it actually costs evenko to email consumer their electronic tickets, allow a customer to physically pick up their printed tickets, transfer electronic tickets to a mobile device, or allow clients to use their credit cards as entry to an event.

The action alleges that such conduct is considered exploitation under the Quebec Consumer Protection Act. Further, it is claimed that none of evenko's competitors in the primary market charge consumers similar delivery fees (unless the ticket is sent by mail or delivery service and where they are also charging a service fee.)

If you or someone you know purchased tickets from evenko and paid a delivery fee (other than to receive their tickets by mail) and you wish more information on potential compensation or to be kept advised of the status of the Evenko Ticket Delivery Fee Class Action litigation or any resulting compensation from the Evenko Ticket Delivery Fee Lawsuit in Canada, Quebec or Ontario, please provide your contact information to our law firm using the below form.

IF YOU WISH TO JOIN THE CLASS ACTION OR TO SIMPLY GET MORE INFORMATION, PLEASE COMPLETE THE FORM BELOW. Please note that providing your information creates no financial obligation for you. You are not charged any fee or cost for joining this class action. Our law firm is paid a contingency fee from the compensation recovered, only if the class action is successful. All information contained in this transmission is confidential and Consumer Law Group agrees to protect this information against unauthorized use, publication or disclosure.