Uber Safe Rides Fee Class Action Lawsuit
Active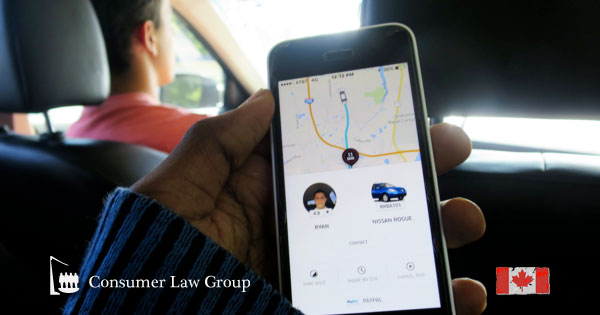 CONSUMER LAW GROUP has launched a Canada-wide class action lawsuit against the ride-sharing service Uber Technologies Inc., Uber B.V., Uber Canada Inc. and Rasier Operations B.V. ("UBER") on behalf of all passengers who used the service [either through the Uber smartphone application ("App") or the Uber website] and were charged a "Safe Rides Fee" of between $1.00-$2.50, beginning in 2014 and continuing to this day.

Around April 2014, Uber began to charge all consumer of its UberX transportation services an undisclosed, mandatory Safe Rides Fee under the guise to "support continued efforts to ensure the safest possible platform for Uber riders and drivers, including an industry-leading background check process, regular motor vehicle checks, driver safety education [and] development of safety features in the app…"

Uber does not clearly and conspicuously disclose the Safe Rides Fee to consumers. For example, the Safe Rides Fee is not disclosed when consumers obtain a "Fare Estimate." Only after the ride has been completed is the Safe Rides Fee disclosed as a separate charge on the electronic receipt sent to the customer. Because consumers receive and review Uber's electronic receipt on their mobile phones, the miniscule size of the font and light grey color used to itemize the Safe Rides Fee is so small that it is virtually illegible to most consumers without a magnifying glass.

In any case, Uber does not and has never provided a "industry-leading background check process." To the contrary, the background check process used by Uber does not use fingerprint identification and, therefore, cannot ensure that the information obtained from a background check actually pertains to the UberX driver that submitted the information. By contrast, taxi regulators in the most populous parts of the Canada require drivers to undergo criminal background checks using fingerprint identification, usually employing a technology called "Live Scan." Requiring fingerprints for background checks ensures that the person whose criminal history has been run is, in fact, the applicant - and is the industry leading background check process.

If you or someone you know has been a passenger in the Uber ride-sharing service in Canada and you wish more information on potential compensation or to be kept advised of the status of the Uber Safe Rides Fee Class Action litigation or any resulting compensation from this lawsuit in Canada, Quebec, or Ontario, please provide your contact information to our law firm using the form below.

IF YOU WISH TO JOIN THE CLASS ACTION OR TO SIMPLY GET MORE INFORMATION, PLEASE COMPLETE THE FORM BELOW. Please note that providing your information creates no financial obligation for you. You are not charged any fee or cost for joining this class action. Our law firm is paid a contingency fee from the compensation recovered, only if the class action is successful. All information contained in this transmission is confidential and Consumer Law Group agrees to protect this information against unauthorized use, publication or disclosure.