Zantac (Ranitidine) Concealed Cancer Risk Canadian Class Action
Active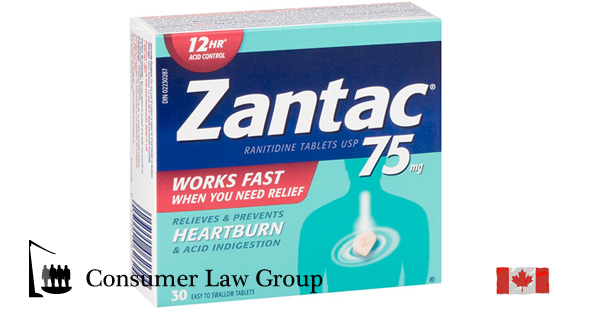 CONSUMER LAW GROUP has launched a Canada-wide class action lawsuit against Sanofi, GlaxoSmithKline, Sandoz, Pharmascience, Apotex, Pro Doc, Sanis Health, and Sivem Pharmaceuticals for knowingly manufacturing and selling a drug that they knew was unsafe to millions of Canadians and for their intentional concealment of the risk of cancer associated with the popular heartburn medication, Zantac.

Zantac contains the active ingredient ranitidine. When ingested, ranitidine metabolizes into N-nitrosodimethylamine (NDMA) which Health Canada, the FDA, the EPA, and the World Health Organization classify as a probable carcinogen.

Ranitidine is available in Canada over-the-counter (for example, under the brand name Zantac and as generics) and by prescription (as generics). Over-the-counter ranitidine is approved to prevent and relieve heartburn associated with acid indigestion and sour stomach. Prescription ranitidine drugs are used to reduce stomach acid for the treatment and prevention of various gastrointestinal conditions, such as heartburn, ulcers of the stomach and intestines, and gastroesophageal reflux disease (commonly known as GERD).

During the time period that each of the above-named companies manufactured and sold Zantac, numerous scientific studies were published showing, among other things, that ranitidine—the active ingredient in Zantac—forms NDMA when placed in drinking water and that a person who consumes the drug has a 400‑fold increase of NDMA concentration in their urine.

Despite the accumulating scientific evidence showing that Zantac exposed users to extremely high levels of NDMA, none of the drug manufacturers disclosed this risk, whether on the drug's label—or through any other means such as in the product monograph.

Consumer Law Group believes action must be taken for the millions of people who were unknowingly subjected to dangerous levels of NDMA through the ingestion of Zantac. The lawsuit seeks to represent anyone in Canada who has previously purchased and ingested Zantac.

The law firm seeks full refunds for persons who purchased and/or ingested Zantac, as well as punitive damages, and all other relief that consumers are entitled to under the law.

If you or someone you know has purchased and/or ingested Zantac and you wish to obtain more information on potential compensation or to be kept advised of the status of the Zantac Class Action litigation or any resulting compensation resulting from the Class Action Lawsuit in Canada, Quebec or Ontario, please provide your contact information to our law firm using the below form.

IF YOU WISH TO JOIN THE CLASS ACTION OR TO SIMPLY GET MORE INFORMATION, PLEASE COMPLETE THE FORM BELOW. Please note that providing your information creates no financial obligation for you. You are not charged any fee or cost for joining this class action. Our law firm is paid a contingency fee from the compensation recovered, only if the class action is successful. All information contained in this transmission is confidential and Consumer Law Group agrees to protect this information against unauthorized use, publication or disclosure.