Capital One Credit Card Data Breach Class Action
Active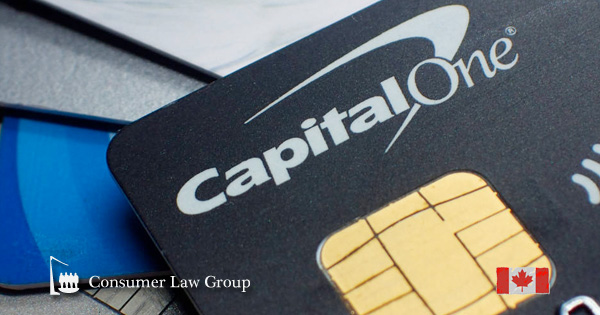 **UPDATE:

The class action is heading to a two-day authorization hearing on January 31-February 1, 2023 at the Montreal Courthouse.

______________

CONSUMER LAW GROUP has launched a class action lawsuit against Capital One Bank (Canada Branch) and Capital One Financial Corporation on behalf of all residents in Quebec who were either Capital One Credit Card holders or who had applied for a Capital One Credit Card and whose personal and private information was compromised by the incident that occurred on or about March 22 and 23, 2019.

The most popular of Capital One's products are those credit cards used by customers of Costco, Hudson's Bay, and Saks.

The class action alleges that Capital One was negligent in failing to adequately protect and safeguard Class Members' private information (including by properly encrypting sensitive data), have compromised their clients' personal information by allowing for unauthorized access by an outside individual.

Further, it is alleged in the class action that Capital One delayed notice to Class Members, as the theft occurred on March 22 and 23, 2019, was apparently discovered on July 17, 2019, was confirmed on July 19, 2019, and was only disclosed to the public on July 29, 2019.

Capital One and Amazon have together, over several years, orchestrated a massive migration of highly-sensitive data from Capital One's private cloud to a public cloud (AWS cloud) under the cover of misleading statements and security software that Capital One and Amazon jointly created and jointly marketed to customers, regulators, and to the public as a means of keeping the data safe.

It is estimated that approximately 100 million persons were affected in the U.S. and approximately 6 million persons in Canada. With respect to Canadians, approximately 1 million social insurance numbers ("SIN") were compromised in the incident.

In addition to SIN numbers, it is believed at this time that the data breach affects the following sensitive information: names, addresses, zip codes/postal codes, phone numbers, email addresses, dates of birth, self-reported income, credit card application data, portions of credit card customer data, including, customer status data, e.g., credit scores, credit limits, balances, payment history, contact information, fragments of transaction data from a total of 23 days during 2016, 2017 and 2018.

By reason of Capital One's failure to safeguard their customers' personal and private information, Members of the Class have suffered damages and are entitled to claim inter alia: (a) trouble and inconvenience by having to carefully review their transactions and be on the lookout for fraud, (b) the lost value of their private information, which was under their own personal control, (c) any additional credit monitoring services not already covered by the Respondents, (d) possible future fraud, and (e) punitive damages.

If you or someone you is a Capital One Credit Card holder and you wish more information on potential compensation or to be kept advised of the status of the Capital One Credit Card Data Breach Class Action litigation or any resulting compensation from the Capital One Credit Card Data Breach Lawsuit in Canada, Quebec or Ontario, please provide your contact information to our law firm using the below form.

IF YOU WISH TO JOIN THE CLASS ACTION OR TO SIMPLY GET MORE INFORMATION, PLEASE COMPLETE THE FORM BELOW. Please note that providing your information creates no financial obligation for you. You are not charged any fee or cost for joining this class action. Our law firm is paid a contingency fee from the compensation recovered, only if the class action is successful. All information contained in this transmission is confidential and Consumer Law Group agrees to protect this information against unauthorized use, publication or disclosure.