Keurig Recyclable K-Cup Pods Canadian Class Action
Active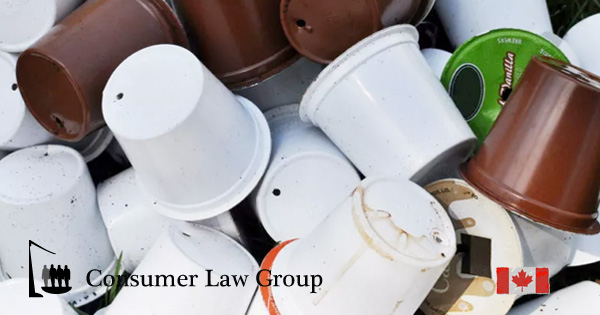 CONSUMER LAW GROUP has launched a Canada-wide class action lawsuit against Keurig Canada on behalf of individuals who have purchased its single-use Keurig K-Cup pods, which were allegedly falsely or misleadingly represented to be environmental and recyclable. To the contrary, the Keurig K-Cup pods are not recyclable in most Canadian cities.

The Keurig K-Cup pods at issue include the following brands:

(i) 1850
(ii) Barista Prima Coffeehouse;
(ii) Bigelow;
(iii) Donut House Collection
(iv) Eight O'Clock;
(v) Emeril's;
(vi) Folgers Gourmet Selection;
(vii) Green Mountain Coffee;
(viii) Kahlúa;
(ix) Krispy Kreme;
(x) Laura Secord;
(xi) Lavazza;
(xii) McCafé;
(xiii) Starbucks;
(xiv) Tetley Tea;
(xv) The Original Donut Shop;
(xvi) Tim Hortons;
(xvii) Timothy's;
(xviii) Tully's;
(xix) Van Houtte;
(xx) Private brands owned supermarket/ grocery chains;

Keurig Canada recently agreed to settle with the Canadian Competition Bureau to:

- Pay a $3 million penalty and donate $800,000 to a Canadian charitable organization focused on environmental causes;
- pay an additional $85,000 for the costs of the Bureau's investigation;
- change its recyclable claims and the packaging of the K-Cup pods;

The Competition Bureau's investigation concluded that Keurig Canada's claims regarding the recyclability of its single-use beverage pods are false or misleading in areas where they are not accepted for recycling. The Competition Bureau found that, outside the provinces of British Columbia and Quebec, K-Cup pods are currently not widely accepted in municipal recycling programs.

The Competition Bureau also concluded that Keurig Canada's claims about the steps involved to prepare the pods for recycling are false or misleading in certain municipalities. Keurig Canada's claims give the impression that consumers can prepare the pods for recycling by peeling the lid off and emptying out the coffee grounds, but many local recycling programs require additional steps to recycle the pods.

Keurig Canada's recyclable claims are made on its website, via social media and on text and logos on the K-Cup pods and packaging.

Keurig is also involved in class action litigation in the U.S.

- California Amended Class Action Complaint
- Massachusetts Class Action Complaint

On September 21, 2020, a California judge certified a class of "all persons who purchased the Keurig's recyclable K-Cup pods in California from June 8, 2016".

If you or someone you know has bought one or more single-use Keurig K-Cup pods and you wish to receive more information on potential compensation or to be kept advised of the status of the Keurig Recyclable K-Cup Pods Canadian Class Action litigation or any resulting compensation resulting from this Class Action lawsuit in Canada, Ontario or Quebec, please provide your contact information to our law firm using the form below.

IF YOU WISH TO JOIN THE CLASS ACTION OR TO SIMPLY GET MORE INFORMATION, PLEASE COMPLETE THE FORM BELOW. Please note that providing your information creates no financial obligation for you. You are not charged any fee or cost for joining this class action. Our law firm is paid a contingency fee from the compensation recovered, only if the class action is successful. All information contained in this transmission is confidential and Consumer Law Group agrees to protect this information against unauthorized use, publication or disclosure.