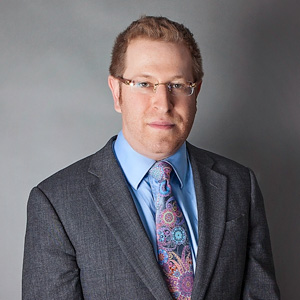 LAWYER
Jeff Orenstein
(514) CONSUMER [266-7863]
ext. 2
(613) 627-4894 ext. 2
(416) 479-4493 ext. 2
1-888-909-7863 ext. 2
[email protected]
Mr. Orenstein is the founder of the firm. His practice is devoted primarily to plaintiff's class action work. He has experience with virtually all aspects of class action litigation. He is lead counsel in multiple national and provincial class actions. Mr. Orenstein has appeared numerous times before the Quebec Court of Appeal, the Superior Court of Quebec, the Ontario Superior Court of Justice, the Quebec Court, the Quebec Labour Relations Commission and Arbitration Boards. He is a frequent speaker at class action conferences in both Canada and the U.S. and serves on numerous boards and committees of legal, professional, and non-profit organizations. With over 150 reported cases in 2 provinces, he has helped shape jurisprudence in the Canadian landscape. Mr. Orenstein is regularly interviewed by media outlets in Canada, the U.S. and internationally about his cases, as well as, other legal matters of interest to the public.
Areas of Practice
Complex litigation, emphasizing consumer protection, antitrust, drugs and product liability class actions.
ACCREDITATIONS
• BARREAU DU QUÉBEC, 2002
• LAW SOCIETY OF ONTARIO, 2011
ACADEMIC EDUCATION
• NEW YORK UNIVERSITY, New York, United States, Master of Laws (LL.M.), 2002
• UNIVERSITÉ DE MONTRÉAL, Montreal, Quebec, Bachelor of Laws (LL.B.), 2000
SPEAKING ENGAGEMENTS
• BARREAU DU QUÉBEC
National Conference on Class Actions – Recent Developments in Quebec, in Canada and in the U.S.
2018 Topic: Class Action in Consumer Law – Impact of the Supreme Court of Canada's Time Ruling
2017 Topic: Lac- Mégantic Class Action – Review and Discussion
• CANADIAN INSTITUTE OF CONTEMPORARY JEWISH LAW & ETHICS
2017 Topic: Goals of Class Actions in Canada: Access to Justice, Judicial Economy, and Behavior Modification with Examples
2012 Topic:
Explorations in Jewish Civil Law II – The Do-Gooder
2011 Topic:
Explorations in Jewish Civil Law I – Finders Keepers
MEMBERSHIPS
• BARREAU DU QUÉBEC, Consumer Protection Committee, 2016-present
• COUNTY OF CARLETON LAW ASSOCIATION, Membership Committee, 2017-present
• MELVIN M. BELLI SOCIETY, Invited Member, 2016-present
• MOUNT SINAI HOSPITAL, Director, Board of Trustees, 2013-present
• COMMUNITY LEGAL EDUCATION ONTARIO (CLEO), Content Committee, 2016-present
• PRO BONO STUDENTS CANADA - UQAM, Attorney Supervisor, 2017-present
PROFESSIONAL CERTIFICATES
• THE ADVOCATE'S SOCIETY
- Alternative Dispute Resolution Skills Certificate, 2018
- Civil Litigation Skills Certificate, 2016
• INSTITUT DE MÉDIATION ET D'ARBITRAGE DU QUÉBEC (IMAQ), Certificate in Civil and Commercial Mediation, 2014
• NATIONAL INSTITUTE FOR TRIAL ADVOCACY, Certificate in Trial and Deposition Skills, 2006-2007
AWARDS
GLOBAL LAW EXPERTS, Editor's Choice category – Class Action Litigation Law Firm of the Year in Canada, 2018
CV
PUBLISHED CASES (Over 185 Reported Cases)



MEDIA APPEARANCES
THE WALL STREET JOURNAL

BLOOMBERG

CHICAGO TRIBUNE

LAWYERSANDSETTLEMENTS.COM

BIGCLASSACTION.COM

LAW360

HUFFINGTON POST

the lawyers daily

advocate daily

GLOBAL NEWS

CTV NEWS

CBC NEWS

THE GLOBE AND MAIL

NATIONAL OBSERVER

RADIO CANADA

TORONTO STAR

TORONTO SUN

MACLEANS MAGAZINE

MONTREAL GAZETTE

LA PRESSE

LE DEVOIR

OTTAWA CITIZEN

JOURNAL DE MONTREAL

LE SOLEIL

CANOE

JOURNAL DE QUEBEC

DROIT - INC.

LE CARREFOUR DE QUEBEC

VANCOUVER SUN

VANCOUVER 24HRS

WINNIPEG FREE PRESS

CJAD 800 AM

CP24 NEWS

UNIVERSITY OF OTTAWA

PORTLAND PRESS HERALD

BANGOR DAILY NEWS

TVA NOUVELLES

QUE CHOISIR (FRANCE)

ITSBUSINESS.CA

IQ MAGAZINE

THE STAR

NEWS 1130

LAND LINE MAG

CANADIANCONTRACTOR.CA

WIFIHIFI

POKER COLLECTIF

CARD PLAYER

CALVIN AYRE

POKER NEWS DAILY

POKER NEWS

ONLINEPOKER.NET

RDS

PSYCHOMEDIA